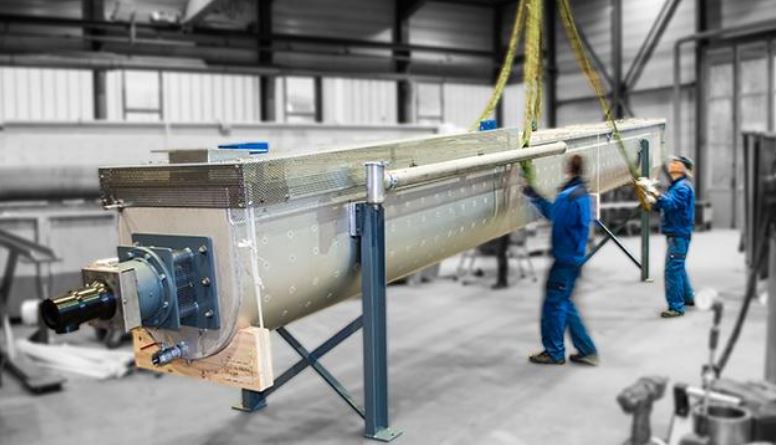 La stérilisation et la pasteurisation grâce au Safesteril
Safesteril® technology is based on the unique, patented combination of an electrically heated conveyor (the Spirajoule®) and steam injection, to reduce the microbial load of raw materials, without affecting their organoleptic characteristics and properties.
Taste, color and moisture are preserved. Volatile oil loss does not exceed 5-10%, which is lower than any other steam treatment system.
Hundreds of different products are processed worldwide by Safesteril, including:

Spices

Dehydrated vegetables

Nuts & hazelnuts

Herbs

Cereals & flour

Cosmetics & nutraceuticals
Our system enables a reduction of up to 5 logs in total flora, while other germs, including pathogens, are completely inactivated: yeast, mold, enterobacteria (E. Coli), coliforms, Salmonella, yeast load, molds and coliforms.
As our heat treatment equipment is 100% electric, it can be powered by renewable energies (photovoltaic) and thus operate in a 100% environmentally-friendly way.
Our patented Spirajoule© uses little steam and requires a small electric boiler: a huge advantage when it comes to strict local regulations (some US states don't allow high-pressure boilers or require dedicated personnel to operate).
With over 120 systems installed in more than 40 countries, Safesteril has established itself as a major player in food safety, and we have succeeded in building a model for efficient delivery of this technology around the world, wherever your production site may be!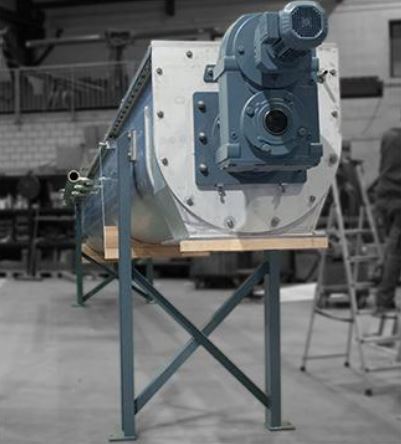 Our machines range in capacity from 200 to 3,000 Kgs/h, so don't hesitate to contact us to discuss your project!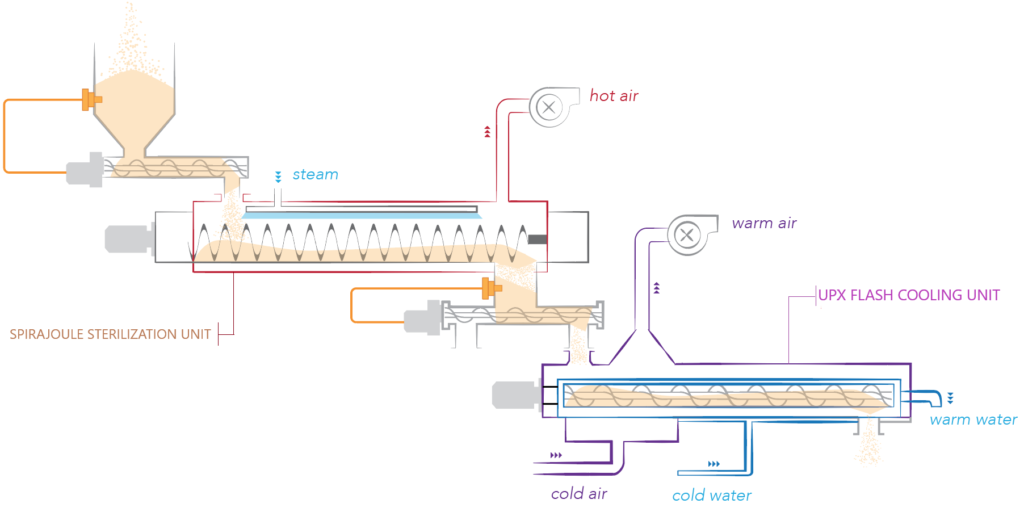 The 1000L feed hopper stores the material to be processed. A metering screw at the bottom of the hopper feeds the product gently and continuously into the sterilization chamber without breaking up the particles.
The product is gently conveyed through the chamber by a Joule-heated screw (Spirajoule). Germ reduction is achieved by combining the heat of the screw with the injected steam. The steam can be saturated, dry or superheated, depending on the treatment to be carried out, and provides perfect humidity control. A current rectifier supplies the electrical energy required to heat the screw.
A 2-way transfer screw is then positioned between the "hot" and "cold" atmospheres of the process, to avoid mixing flows and generating condensation. This screw, controlled by an exclusive "autoreverse" function, ensures that only product that has reached the target time and temperature continues on its way to the rest of the process, while non-conforming product can be evacuated and reused upstream. The product ends its journey in a flash cooling system and enters a cold, dry atmosphere. Cooling is achieved by the action of chilled water circulating inside the screw and the double jacket of the conveyor trough. Dehumidified air is percolated into the product to remove excess moisture. The product can be packed directly out of the machine, without the need to re-shred the powders. The whole process is managed by a general control panel, available in your language, for control and monitoring, as well as management of CCP alarms (HACCP procedures) for the process.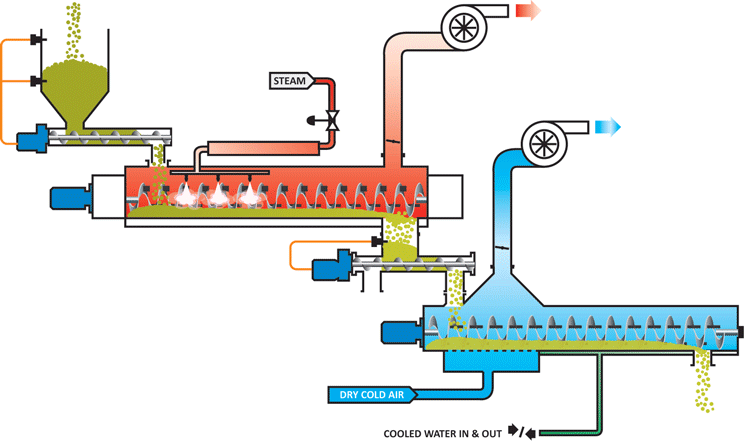 SafeSteril will make your product safer for the consumer, while maintaining its high quality.

Safesteril has a low maintenance cost (1% du REX / year)
So we provide a free remote assistance service.

Green technology
(100% electric and fossil free)

Cleaning is optimal
Don't hesitate to contact us to discuss about your project!